Leila Zelli :Playground
11 janvier 2019 - 23 février 2019 - Galerie de l'UQÀM, Montréal
No image can ever be understood in just one way because it exists under the kaleidoscope of human interpretation. We only read images through the lens of our own knowledge, experiences, beliefs, and a priori culture, which together make up our singular vision of the world. Nevertheless, each day, we see hundreds, if not thousands of images on TV, the Internet, social media, in the street, in newspapers, books, archives or magazines, and we assume our point of view is right.
Images of daily life, namely images of war zones, are presented here as a way to make us experience how we view one another. These have been re-contextualized within an in-situ installation that gives viewers the impression of being in a "playground" of sorts, one of children's games and one of political image games. The audio and the positioning of the images generate the effect of being off-screen, out of sight, out of reach (i.e.
hors-champ, hors de vue, hors d'atteinte
), and interact to create a fictional space that activates curiosity and our desire to see, thereby questioning our position in the face of current events.
---
« Dans la petite salle, la Galerie de l'UQAM présente Terrain de jeux, projet de fin de maîtrise de Leila Zelli. L'installation en plusieurs vidéos, dont certaines sont à découvrir à travers les orifices d'un mur, parle aussi d'attente et de temps en apparence non productif. Au-delà de nous transporter dans un camp de réfugiés syriens, l'œuvre sonde notre désir de tout voir, de tout comprendre, de tout raisonner. L'ensemble est animé d'un beau dosage de visible et d'invisible. »
Le Devoir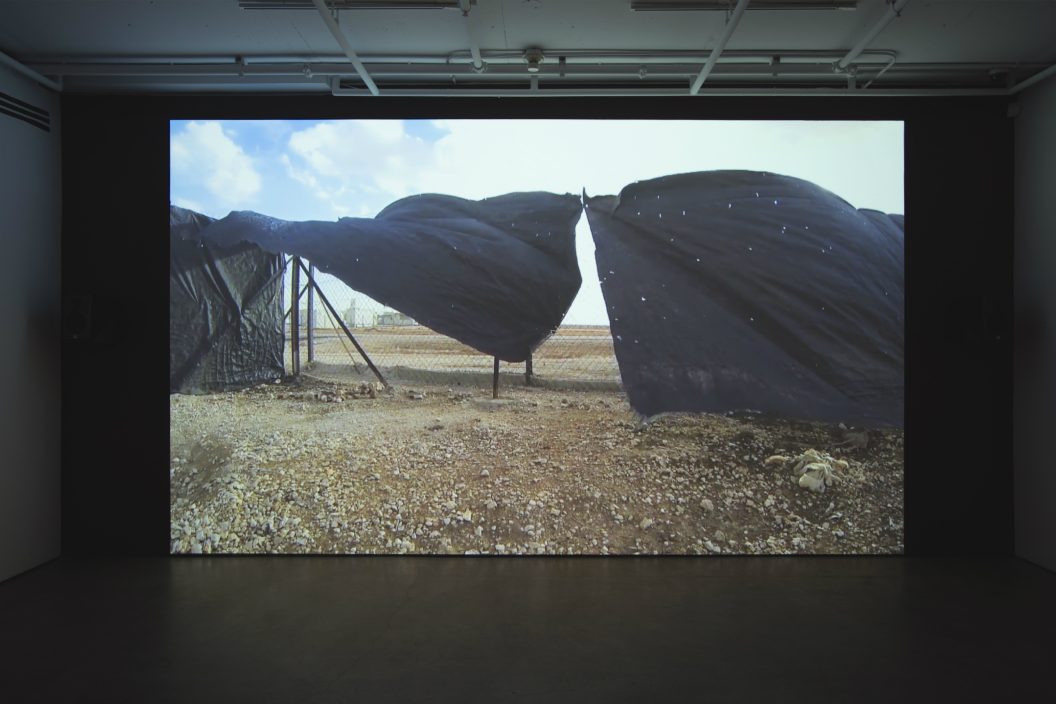 Vue d'exposition de Leila Zelli. Terrain de jeux, 2019, Galerie de l'UQAM, Montréal
Photos et vidéo : La Galerie de l'UQÀM

---